At just 35 years of age, champion jockey Clare Lindop has achieved more than most jockeys do in a lifetime. After a long layoff from injury, Clare finally made her much anticipated return to the track last Wednesday. In true Lindop fashion she is focused and determined to make every post a winner…..
Article originally from Fillies Form website: http://filliesform.com/clare-lindop/
Clare chats to Fillies Form about where her passion for racing began and the key to her success.
5 Minutes with Champion Jockey Clare Lindop
FF: After a shocking fall on Adelaide Cup Day you have been out of action since March. You must have been itching to get back in the saddle?
CL: This has been the most debilitating injury I have ever had to overcome. I have had my share of falls, with a broken collar bone, wrist, ankle, leg, dislocated shoulder and concussion to boot. I have found this the hardest to come back from fitness wise, and have a new found respect for footballers who strap up broken ribs and head back out onto the playing field.
The 12 weeks I spent completely on the side lines before I was able to even get back to track work, was the longest I have been without riding a horse since I was 10 years old. One thing the time away from horses has done is remind me of why that 14 year old girl left school to go and work with horses. I simply love them.
FF: So your ambition to work with horses started at a young age?
CL: I grew up living on a property in Wangoom, a small dairy-farm town just outside of Warrnambool in country Victoria. There is a lot of racing action in Warrnambool, and a strong horse community. I was fortunate enough to live right next door to St Marys Pony Farm, a trial riding school. I learnt to ride there at the age of 10 and soon spent all my weekends and holidays down at the farm, learning to ride from the Master Horseman, Johnny Lee. It wasn't long before I convinced my parents to buy a pony for me, a beautiful grey mare called Annie.
After a few years of Pony Club, I started to get involved with a local racing stable. I got a job on Sundays mucking out the stables. Then I started to ride a few horses in track work, and one thing led to another. I left school at age 15 to become an Apprentice Jockey. To be honest I didn't have any real conception of what a jockey meant, I just thought – leave school, work in a stable and get paid for it? Yes Please!
FF: How did you manage to convince your parents (both school teachers!!) to let you leave school at such a young age?
I don't think I realised the enormity of leaving school so young, and I think my parents, in particular my Mum had quite a few concerns. But they have always been very supportive of me, and now of course Mum loves the hats & Champers and Dad is always trying to find some sort of "mathematical formula" to back a winner.
FF: Once you were given the green light to leave school you completed your jockey apprenticeship under the guidance of some notable trainers.
CL: I started working with Warrnambool trainer Frank Byrne in 1992 when I was 13 years old. Frank was the leading trainer in the South-Western District of Victoria and he and his wife Diane really helped by looking after me in my "green" years. I became indentured to him in 1994 and had my first race ride in 1995 at the Warrnambool May Races on my 16th birthday. I rode a horse named "Casper" trained by Frank and owned by Diane.
In 1997 I transferred to Hamilton trainer, the late Jack Barling, in order to gain more experience and better racing opportunities. Jack was a true Aussie horseman, with a strong work ethic. His influence on my career and also to my attitude in life has been profound. Under Jacks guidance I won the Leading Apprentice title in the South – West in 1998. Unfortunately Jacks health took a turn for the worst and he passed away in the year 2000. It has been a really sad thing for me that Jack has not been able to see some of the successes I have had, which I know he would have got a big kick out of.
I moved to Adelaide in 1999 to finish my apprenticeship with Byron Cozamanis, who was training at Morphettville at that time. (He is now at Caulfield) "Cozy" was a fantastic boss – hard but fair. He put me on every horse in the stable, and we had some great success together, including Leading Trainer/Jockey in Pt Lincoln 2 seasons in a row.
I finished my apprenticeship in May 2000, riding over 100 winners.
FF: Being originally from Victoria did you consider moving back to pursue riding opportunities?
CL: I originally was only going to stay in Adelaide for 3 months, but I enjoyed it so much that I purchased my first house here in 1999 and have been here ever since I finished my apprenticeship.
A lot of people don't realise that although I had quite a successful apprenticeship, riding over 100 winners with a lot of support from great trainers and owners, I never really made the grade as a "Metropolitan Jockey." I actually came out of my apprenticeship with only 18 City winners, and still claimed 3kgs!
For the first couple of years as a senior rider I really had to adopt a "have saddle will travel attitude." I rode all over country South Australia, and regularly travelled back to the Warrnambool area. If I didn't have a ride in Adelaide on Saturday, I would take off to ride at country Victoria – Casterton, Horsham, Terang, Colac, Mildura and Stawell. I think riding everywhere as much as I could really helped me become a stronger rider, and gained a lot of experience riding with some of the best country and true horseman, like Craig Robertson, Alan Peterson, Christine Puls and Neville Wilson.
I rode my first metropolitan winner as a senior rider in 2001 at Victoria Park (Her first metropolitan winner was in 1997 on board "Mondilabi" at Moonee Valley for Frank Byrne). The horse was "Star of Brooklyn" trained by Casterton trainer Graeme Smith. This was also my only city winner for the first year out of my time. The following season I won the 2002 SA Country Jockey of the Year and started to see the fruits of my hard work.
FF: Your hard work would continue to reap rewards when you joined the stables of renowned Morphettville trainer Leon Macdonald. What influence did this move have on your career?
CL: I started to ride for Leon Macdonald as a "light-weight" rider at about this time. The stable Jockey, Jason Holder was not able to ride the minimum (which was 52kgs back then) and so I started to gain some rides for Macdonald. To be associated with such a prestigious stable really did give me a confidence boost, and also other people started to take notice.
In May 2003, I won my first "Black Type" race for Leon Macdonald aboard "Debben" with only 51kgs in the St Ledger. This race qualified Debben for the Melbourne Cup in the Spring of 2003. When she gained a start in the Cup and I was granted the ride, our working relationship was truly cemented.
When Jason took up a contract to ride in Hong Kong in 2005, Leon asked me to take the step up and ride for the stable as number 1. I have now been riding for Leon and his co-trainer and son-in-law Andrew Gluyas for 10 years.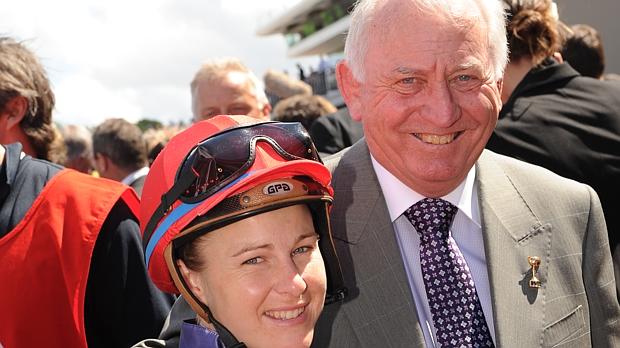 FF: Becoming the first Australian female to ride in a Melbourne Cup must have been a career highlight. What was the experience like?
CL: I think riding in the Melbourne Cup in 2003 virtually turned me into an overnight success!
The amount of publicity I received was amazing, and I believe people started to think – well if she rode in the Melbourne Cup, she must be able to ride. All of a sudden everyone wanted me. And not just for riding duties, but with guest speaking opportunities, and invitations to all sorts of gala events. It truly was amazing. 2003 – 2004 would continue to be an amazing year for me. I rode 111 winners for the season, and also won the SA Country and Provincial Jockeys title. I soon had the Metropolitan Jockeys title in mind.
FF: You have continued to have great success with the Macdonald stable, what has made this such a formidable partnership?
CL: I believe that Leon saw the potential in me and gave me the chance. So many good riders do not get to reach their potential due to lack of opportunities. And, as is everything in life, the more experience you have, the better you become. I remember when I first started to ride regularly for the Macdonald stable at the Saturday meetings and I would get nervous if the horses were favourites. Now if they are not the favourite or close too in the market, I am surprised.
I worked hard at becoming a better rider and I think Leon enjoyed coaching and advising my development as a rider. I continue to work hard for the stable and really enjoy being in a team like environment. I take a lot of pride in riding work every day and helping the young horses develop, teaching them how to grow into racehorses. It is very satisfying when a horse you have ridden since day one comes out and puts it together on race day and does you proud.
Leon Macdonald has always been able to change with the times, and I credit a lot of his success to this. Leon has got great family support (and in turn they are very good to me) and our owners too – all seem to have similar values to our stable, which goes a long way in successful relationships.
As a rider, to know that you have 100% support from your trainer is so helpful in backing your own judgement and riding confidently. If an error is made, although there may be words, you are never "hung out to dry", and always positively looking forward to the next run to get it right.
FF: You mentioned that winning a Metropolitan Jockeys title was a goal you had in your sights. You ended up winning not one but two premierships. How important was reaching such a milestone?
CL: My first premiership in 2005 meant just so much to me. Going into the last day of the season fellow rider Joe Bowditch and myself were on equal wins. Joey won race 2 on the program, which meant I actually had to win 2 races, because if we had equal wins Joe would win on a count back (more 2nds.) I won the last race on the day and there were tears all round.
My 2nd premiership in 2008 was also a great achievement in the sense that it proved the first one wasn't a fluke. That was also one of my best years, riding 50 winners in the Metropolitan area, and I really felt that I had stepped up a level with my riding. This was a golden year, with Augusta Proud winning the Magic Millions on the Gold Coast. I then went on to win the VRC Derby with Rebel Raider the following Spring.
FF: Jamie Kah is another female jockey making a name for herself in South Australia (In 2013 Kah became the first female apprentice to win a senior premiership in Australia). As two successful female riders, how competitive is the rivalry between yourself and Jamie Kah?
CL: I am really proud of what Jamie has achieved, and all at such a young age. I think the hardest part will come for Jamie now that she has graduated to the senior ranks. Although we are all rivals, and sometimes the "room" can get a trifle unpleasant with all of the competitiveness (interestingly we are the only sport where the competitors share the same change rooms – apart from maybe tennis at the lower end) we are all friends. There is camaraderie amongst jockeys, here and everywhere in the world. You may have to pass a few tests, but once you are accepted as one of our own, that is it.
Possibly the least amount of challenge I have faced in the male dominated industry is from my colleagues – we all have to trust each other out there and once you've earned your stripes, your accepted.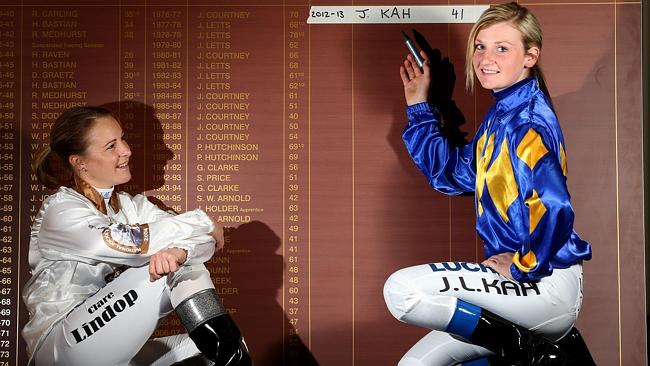 FF: You were the first woman in Australia to win a Group 1 race, a VRC Derby and a Metropolitan premiership plus ride 1000 winners. You were also the first Australian female to ride in the coveted Melbourne Cup. Did you ever expect to accomplish so much in a male dominated sport?
CL: This is a difficult question to answer. While I am very proud of my achievements, if they have helped other young females to strive for similar success, or if I have made it easier for female riders to gain opportunities, then I am really happy for them, but I did not set out to wave a "female flag".
I have always tried to do the best I can, and to work hard for those who believe in me. In some ways being a female has been a double edged sword. I have gained a lot of media attention I would not otherwise have had, which has helped my profile and exposure enormously. It has also added pressure and unwanted attention when one is trying to focus on getting the job done.
As to how I dealt with any discrimination early on in my career- I just tried not to get a "chip on my shoulder" or to let anyone, myself included use it as an excuse or as an easy way out. If anyone said to me "sorry but the owners want to put a boy on next start" I would accept this with a smile, and try to get it right so they couldn't take me off next time. It is a fact that men are built stronger than women, and as a 16 year old kid weighing 48 kilos, I had to work twice as hard to get as strong as my male competitors.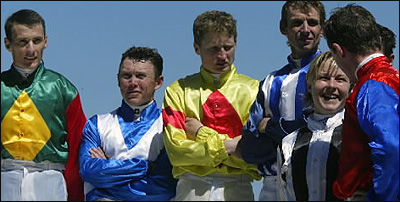 FF: What advice can you give to any young person looking to become a professional jockey?
CL: Be prepared to work hard, first impressions last and you really do have to love animals.
FF: While the majority of your work is done on the track, you are also actively involved in other parts of the racing community.
CL: I am very passionate about the National Jockeys Trust. I was involved with the launch in 2004 in Canberra with then Prime Minister John Howard. This year is the 10th Anniversary of the Trust. The NJT helps seriously injured riders and the families of those jockeys who may have lost their lives in racing incidents. To date the Trust has helped over 200 riders providing nearly $2 million in assistance.
We do have a silks sponsor with LUCRF. They are the main supporter for the Trust, but we do rely heavily on donations. Our own Australian Jockeys Association also contributes towards the funding costs every year. To find out more please visit our web-site www.njt.org.au
I am also the founding member of the SA Jockeys Advisory Board, which consists of a panel of senior riders providing guidance and advice to apprentice jockeys.
We are one of the only professions where you are apprenticed to someone who actually doesn't do your job. But the value of being mentored by a trainer and obviously needing someone to put you on rides while you are learning is essential.
I had some great senior riders assist me when I first started, and I was lucky enough to ride with Maree and Therese Payne, Sally Wynne, Caroline Mason, Christin Puls, Vanessa Hutchinson. These were some of the best female riders in the 90's. They had to be tough, and they taught me to be tough, so I do believe in sharing and passing on advice. I certainly could not have done without it.
FF: And when you have the occasional day off from riding, do you get to get to enjoy the social side of racing and attend the track for pleasure?
CL: I have been known to "frock up" and enjoy a champers or two at the races. But generally speaking, going to the races is not my idea of a relaxing day off. I like to do gardening, take long walks with my dog Coco, read books, especially while lying on the beach in the sun. I also enjoy yoga and swimming and also regularly do gym training. Socially I love fine dining and wining with good company.
FF: And finally, with the Spring Carnival fast approaching, are there any particular horses you would like to be riding this campaign?
CL: Go Indi Go and maybe Burgundy Blast (we hope!)
Fillies Form would like to sincerely thank Clare for giving us an insight into her career and personal life. We wish her every success with her comeback and will be cheering home each of her winners…
Hopefully Group 1 winners!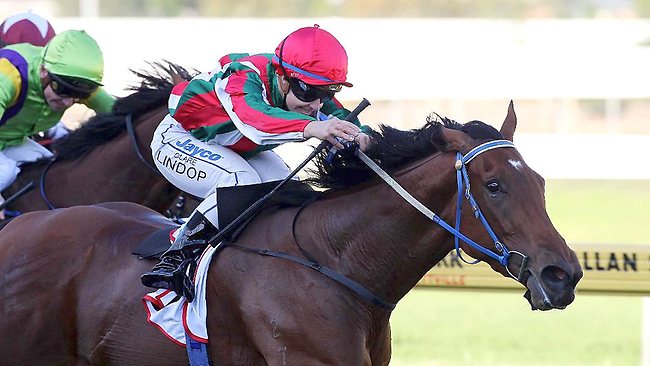 "Sometimes, when the alarm is blaring at you and the weather outside takes your breath away, it is not the best job in the world, but the hard days make the good ones that much sweeter. It is a privilege to be able to ride horse for a living, and to be out there on a horse when the two of you connect and are running as one…. Well there is no describing the feeling you have, sheer joy, pride, satisfaction, relief and the thrill of being part of something which no one can really understand why we love it so much. The Sport of Kings."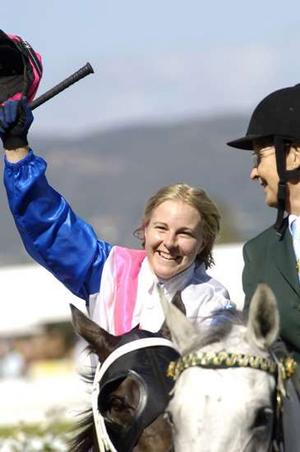 Clare's Career Highlights
First winner – "Opinions Differ" at Dunkeld for Jack Barling in 1995
First Metropolitan winner – "Mondilabi" at Moonee Valley for Frank Byrne in 1997
2004 Launceston Cup win on board Dakasha, for Leon Macdonald (A really proud moment for Clare's dad, who had to race her from Hobart to Launceston on the morning of the races due to flight troubles).
First Group 1 win – The 2006 Adelaide Cup win on Exalted Time for Jim Smith.
3 other Group 1 victories – The VRC Derby on Rebel Raider, the SA Derby on Rebel Raider and the Goodwood Handicap on Lone Rock for Robert Smerdon.