THE attitude towards female jockeys has changed rapidly in the past decade, as riders like classic-winning Clare Lindop set the pace by steering home Gr.1 winners and leading premierships. Now, as her riding career may be winding down, Clare reflects on her start in the industry and on some of the highs and lows of the past 20 years.
Article originally from Blue Bloods website: http://bluebloods.com.au/2018/06/25/clare-lindop/
IN MORE than 20 years of race riding Clare Lindop has been a pacesetter among female jockeys. Beginning in the times when separate female change rooms were an afterthought, often just hastily converted store-rooms or even a broom cupboards, she has put together a long series of accomplishments including being the first female to ride a VRC Victoria Derby-Gr.1 winner.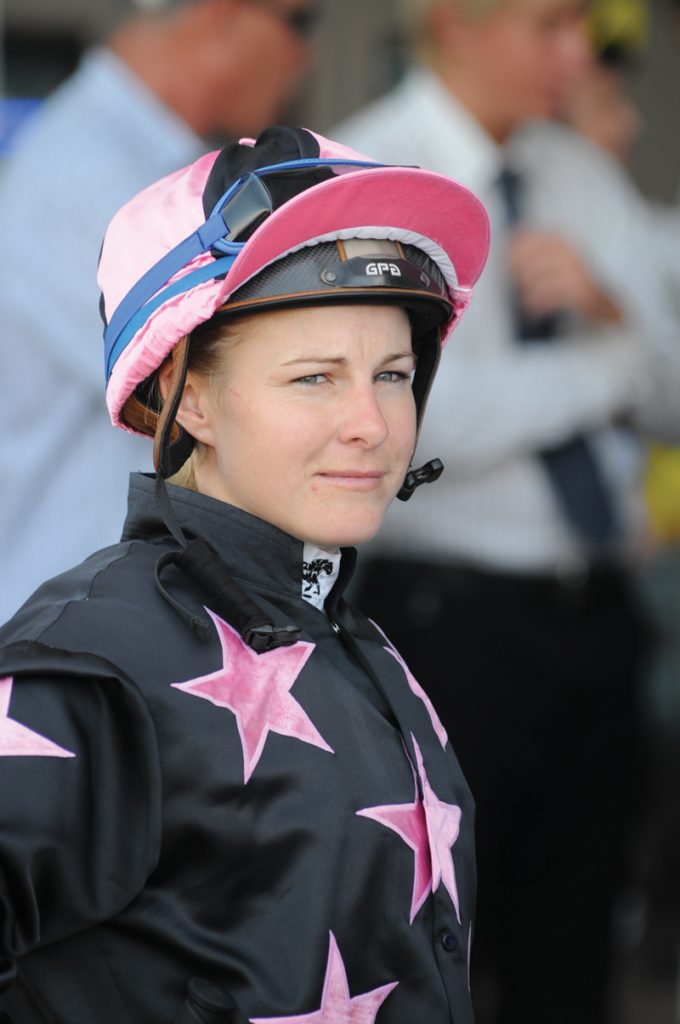 Now, as her career may be winding down, there is more, much more to tell about her list of credits. These include being first Australian female to ride in the Melbourne Cup; being the first Australian female to win a Gr.1, the first female to win the Magic Millions Two-Year-Old Classic; the first female to win Adelaide and South Australian jockeys' premierships; and the first female to ride in the Victoria Derby, as well as having set numerous riding records.
The Clare Lindop story goes much deeper than a mere recounting of records. Four years ago she suffered extensive and extremely painful injuries in a race fall at Morphettville that would have stopped a lesser person. But in the 2014-15, with the help of her manager Damien Wilton, she bounced back to secure the Adelaide and South Australian jockeys' premierships.
A fairy tale romance developed between them along the way and on January 8, 2017 they were married after Clare had scraped home in the previous day's "Congratulations Clare and Damien" Handicap on Battle Brewing, prepared by her long-time mentor Leon Macdonald and his training partner Andrew Gluyas.
"I was so happy to win that race in a lot of ways," Clare said. "It's a memory Damien and I will treasure and it was great Leon was involved because he has been so good to me since I began riding for him about 15 years ago. I remember that Leon was quoted as saying, 'Clare might not be the best jockey in Australia but she's the best jockey for me'. That was a wonderful tribute and one I have always valued."
Now, though, with four Gr.1 wins, success in more than 50 black type races, some 20 odd cups and more than 1400 winners behind her, Clare is thinking about what the future holds. "I am closer to the end of my career that the start of it, for sure," Clare said. "Damien and I would like to start a family but at this stage we are just taking one step at a time or, as the footballers say, one week at a time."
While appreciating that since she began riding there has been an ever-increasing number of "girls" participating in racing Clare believes the numbers of females in racing departments and stewarding should be addressed. "There is no doubt, though, that the facilities, opportunities and respect for females are much better than when I started out. That's a positive, but I feel there is room for a bigger female presence on the administrative side."
With Clare being based in Adelaide for most of her career, not everyone realises that she was born in Warrnambool, which is a seaside resort on the Southern Ocean some 260km from Melbourne.
The largest city in Victoria's rich Western District, Warrnambool is renowned for its three-day Grand Annual Steeplechase meeting each May. Although living in a racing-oriented area her
parents, Clive, a university lecturer and mother Maggie, a teacher, had little interest in the industry or horses for that matter. Clare remembers that when, as a 10 year-old she told her father she wanted a pony, as so many youngsters, particularly in rural areas do, he was "ho hum" about the idea.
"Dad said 'well let's go for a horse ride' thinking that would be the end of it," she said. "But it went the other way, I fell in love with horses. I was very fortunate a man called Johnny Lee had a pony farm at Wangoom, where we had a property, and I started riding there. Johnny had 30 or 40 horses of all sorts, he taught me how to ride and I was fortunate to receive a very good grounding from him."
Quickly identifying her enthusiasm Clare's parents bought her a pony, which was named Annie, and together they competed successfully for a number of years in pony club events and at gymkhanas. By the time Clare was in Year Nine at Warrnambool College she knew she wanted a life amongst horses.
"My parents were very much in favour of my completing my schooling and then doing a degree at university as my older sisters Agnes and Rowena did. That wasn't the way I wanted to go and at 14 I left school and began working in the stables of local trainer Frank Byrne. It was a move that was difficult for my parents to handle but they knew I was adamant and they have supported me ever since, which has been great."
Just two days shy of her 16th birthday Clare had her first race ride on the Byrne-trained Star of Magi gelding Arctic Mittens, who finished back in the field in a maiden at the 1995 Warrnambool jumps carnival. There was a wait of more than six months until she notched her first win on Opinions Differ, by Epidaurus, at Dunkeld on November 18 of that year and her first metropolitan victory came up on the Byrne-trained grey Mondilibi, by The Pug (GB), at Moonee Valley on July 10 of the following year and by then Clare's ability in the saddle had been duly noted.
"Frank also gave me a great grounding but I was looking for more race rides and I received an approach from Jack Barling, who had trained my first winner Opinions Differ. So after a couple of years with Frank I transferred to Jack, who had his stables at Hamilton. He had a great team of horses and he was very supportive and under his tutelage I won the 1998 Victorian South Western District apprentice title which was pretty big for a young girl as I was back then."
When Jack, who died in 2000, became ill in 1999 Clare's indentures were transferred to Adelaide trainer Byron Cozamanis for the completion of her apprenticeship. "As I had been in the south-west of Victoria I had ridden at Mount Gambier, Bordertown and other tracks around the South Australia border so I had made a number of connections in Adelaide. I knew Melbourne would be difficult to break into so when Jack was virtually closing down his stables I went to Byron, who was a good trainer to go to because he had a lot of winners in country areas. I continued riding for Cozy after I finished my apprenticeship and we notched up three premierships at Port Lincoln in the early 2000s."
By the time she became a fully-fledged jockey Clare had more than 100 successes, including 15 metropolitan wins, to her credit and had outridden both her country and provincial allowance. It was only 20 days into 2001 when she opened her metropolitan account as a senior jockey by winning on the King of Brooklyn gelding Star of Brooklyn, at Victoria Park. Star of Brooklyn, who was prepared by Graeme Smith, went on to win another five races to boost his winning tally to 10 and Clare was aboard the grey in each of those victories. "He was a lovely looking horse and he gave me the most wins I've ever had one horse."
Not long afterwards a major breakthrough came when she began developing her enduring association with Leon Macdonald, who is one of the nation's most astute trainers. "Leon was looking for a lightweight jockey in the 2002-03 season because his senior riders couldn't make the lighter weights," Clare said.
"It was a great opportunity for me." That led through to what Clare describes as a "career changing experience" when she was booked to ride the Macdonald-trained Blevic mare Debben in the 2003 VRC Melbourne Cup-Gr.1 at Flemington.
New Zealanders Maree Lyndon and Linda Ballantyne had previously had Cup mounts in the 1990s but she had the honour of being the first Australian female to ride in the race that stops the nation. "It was pretty cool, a dream come true," Clare said. "Maree and Linda had their rides quite a few years earlier, so it was all new again as far as the media was concerned. I received a lot of recognition and people started saying if you can ride in the Melbourne Cup, you must be able to ride.
"On the back of that I had the best season I'd ever had in 2003-04 when I just couldn't stop riding winners and I finished with a total of 111, a record which stood until last year. At one stage I rode four winners on the card at successive meetings at Port Lincoln, Mildura and Victoria Park, which was just fantastic."
These results led to Clare being named SA Jockey of the Year, an award she was given again in 2005 and 2009, as well as receiving a SAJC Special Achievement Award and being the South Australian representative at the National Jockey Celebration Day launch at Parliament House in Canberra. Another milestone was reached in 2005 when she became the first female to win a metropolitan jockeys' premiership.
A matter of months later Clare became the first female to ride in the VRC Victoria Derby-Gr.1 when she partnered the Macdonald-trained Montjeu (IRE) gelding Gallant Guru, who finished back in the field. While Debben had struggled home in 18th place in the Melbourne Cup Clare only had to wait until May 2006 to become the first Australian female to win a Gr.1 when she landed the SAJC Adelaide Cup on Exalted Time, by Bellotto (USA).
A broken ankle suffered at Naracoorte temporarily halted her momentum but by the spring she was back in full flight. Despite months on the sidelines her talent was still being widely recognised which led to Clare being engaged by Terry and Katrina O'Sullivan for a second Melbourne Cup ride on the well-performed Dolphin Jo, by Dolphin Street, in 2007.
"He had won the Herbert Power at Caulfield and went into the race with a real chance. He ran a really good race to finish fifth behind Efficient and it was pretty exciting to weigh-in." With her fortunes continuing to rise, Clare had a brilliant year in 2008. It all began when Leon's brilliant More Than Ready (USA) speedster Augusta Proud won six consecutive races, culminating
in March in SAJC Adelaide Magic Millions (1200) and Gold Coast TC Magic Millions Two-Year-Old Classic-RL victories. Besides being the first female to win a Magic Millions it resulted in Clare having the thrill of riding Augusta Proud when she finished ninth to Sebring in that year's STC Golden Slipper Stakes-Gr.1.
In the spring she scored her most important and memorable success when she became the first female to land the VRC Victoria Derby-Gr.1 on the Reset horse Rebel Raider. Although he had demonstrated his staying ability by finishing third in the Geelong Classic-LR (2200m) at his previous outing Rebel Raider was sent out at 100/1 with Whobegotyou being an 11/8 on favourite. Despite the odds Leon had a plan of attack and with Clare following instructions to the letter it worked.
"We went into the Derby knowing he could stay and that he was a genuine top five chance," she said. "Leon and I had the idea to ride to a plan to try to beat Whobegotyou by making the Derby a strong staying race. The goal was to be in front of him turning into the straight and I shunted out in front of Michael Rodd on Whobegotyou and went for home. I was fully expecting him to be breathing down my neck but I held him off all the way to the line."
Adding further to the excitement of the day Clare had been approached about riding the Danehill Dancer (IRE) gelding Moatize at 50kg in the Cup, if he managed to win the VRC SAAB Quality-Gr.3 that afternoon.
"Moatize had just won the SAAB as I was walking into the course for my Derby ride so I knew I'd be riding in the Melbourne Cup for Bart Cummings, which was pretty special," she said. "Moatize finished sixth but Bart won that year with Viewed, so it was great to be part of the winning team."
Two days later Clare brought up a further notable success when she captured the VRC Red Roses Stakes-LR on the Blevic filly Exalted Keetah, who like Exalted Time was trained by Jim Smith. Rebel Raider notched up another Gr.1 victory for her in taking the South Australian Derby in May of 2009. Soon afterwards Clare headed to the United Kingdom where she rode for Aidan O'Brien at the famous Ballydoyle complex in Ireland and for Luca Cumani, John Berry, Sir Michael Stoute and Jeremy Gask at Newmarket.
Her three wins from 13 rides during an eight week working stint included capturing a maiden at Doncaster on the Medicean horse Medicean Man, who went on to be victorious at Ascot and at Meydan in Dubai. "I also won on a horse named Ivory Silk for Jeremy Gask at Newmarket, so it was a very good experience," she said.
The following year Clare was invited to ride in at the International meeting at Kranji, in Singapore, and in 2011, besides winning the SAJC Goodwood Handicap-Gr.1 for Robert Smerdon on the Fastnet Rock mare Lone Rock, she became the inaugural winner of the John Letts Medal, which she won again in 2015. In between winning those awards tragedy struck when on Adelaide Cup day at Morphettville in 2014 she crashed to the turf from Gambling Guru suffering 15 broken ribs, a broken collarbone and a severe shoulder injury.
"Gambling Guru, who was fine and able to race afterwards, rolled on top of me when we went down. It was nasty but those are the sort of things that can happen in racing." Showing her resilience, Clare was soon out-and-about after a week in hospital but it was five months before she was able to resume race riding. There was a shining light, though, towards the end of her convalescence.
As she was going through her recovery Clare noted that Damien was managing a number of the jockeys she had found hardest to beat."I've now won three premierships, have been in the top five 13 times and I've been runner-up several times and when I was working on my comeback I noticed that whenever that happened it was always to a jockey managed by Damien," she said. "He was like my nemesis! So when I was coming back from such a long lay-off I thought I'd ask him to help me. We had a business lunch and Damien agreed to manage my rides."
The combination worked in brilliant fashion with Clare topping both the Adelaide and South Australian jockeys' premierships in 2014-15, her first season back after the horrific fall. Fittingly among her successes was a win on the Dylan Thomas (IRE) gelding Dylanson, trained by Philip Stokes, in the SAJC C.S. Hayes Memorial-LR, the race she had crashed in 12 months earlier. It was a race she won again the next year on Royal Rumble, by New Approach (IRE), trained by Leon and his son-in-law Andrew Gluyas, who had begun their partnership in the 2009-10 season. Leon and Andrew combined to win last year's Adelaide training premiership and Clare, who finished second on the jockeys' premiership to Jamie Kah, said she is "very happy" to have been a major part of that.
"We also had a successful Adelaide Cup carnival, which is always important. One of the winners we had was Royal Rumble, who won on Derby day." A further highlight came later in the year when she teamed with fellow Victorian Luke Nolen to beat rivals from other states and New Zealand in the Queensland "State of Origin" jockeys' series, so Clare is not short of heart-warming memories as she contemplates her future.