There's always a buzz of excitement in the air on Cup day.  The "interstate raiders" are in town, bringing their horses to have a crack at our feature races. I always relished the challenge of taking on the best on my home turf. Sometimes for a jockey, it's the best chance you've got to showcase what you do, and riding a winner is just that bit more satisfying. 
This article was first published on The Advetiser.
Exalted Time was my ride in the Cup; "the bookies" gave us a place chance at 10-1; but I was quietly confident we could run a sneaky race. I'd won the Birthday Cup the month before, on "Time" and ran 2nd in the Lord Reims 10 days earlier.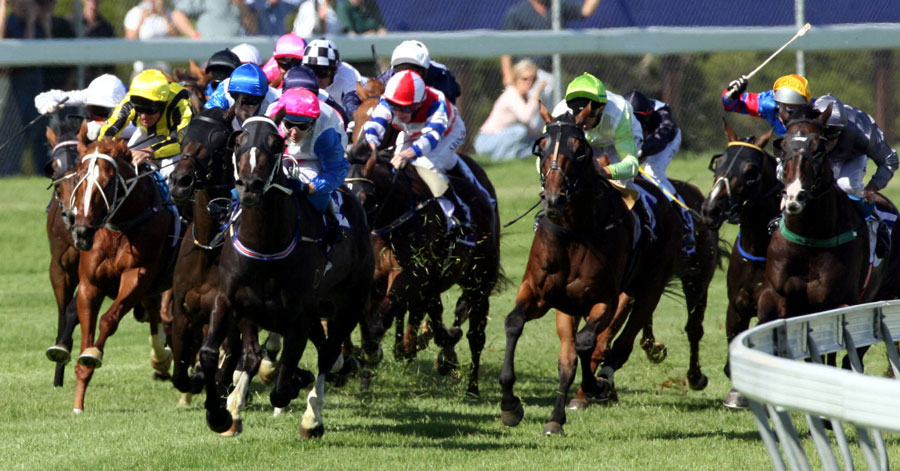 Mr Jimmy Smith (the Trainer) and I came up with a plan to play to our best attribute – Exalted Time's high cruising speed. Leading over a 2-mile race is not easy, your horse can fire up too much, overdo it, leaving nothing for the finish.  But the owners Ken & Helen Smith were game to take a risk, and they gave me confidence by saying "You know him (Exalted Time) Clare, we trust your judgment"; that makes all the difference as a rider too – and I am so grateful for that.
We were out there to win with a daring plan. As long as I could pull it off…..
The race starts for jockeys on the way to the gates, how much of warm-up do give your horse? Relax them or keep 'em on their toes? How much of your game plan do you share? Tactics play a major role in staying races, if riding tactics are changed from a horse's usual pattern they have to be declared; but as "Time" always raced at the front, my plan to lead didn't have to be notified to the stewards.
The Starter calls us into line, my barrier attendant loading us away, wishes me luck (I'm one of only 7 locals out of the 20) it takes several minutes to load the big field, and the horses feel the tension and react excitedly in anticipation of the race. It's noisy, with people calling out for last minute adjustments, gates crashing closed and the starting stalls can rock around too. As the final horse comes up, I take a deep breath and give Time a good luck pat.
The gates spring open, the power it takes to jump from standstill to 60 km an hour is always exhilarating, no matter how many times you do it, and we're off…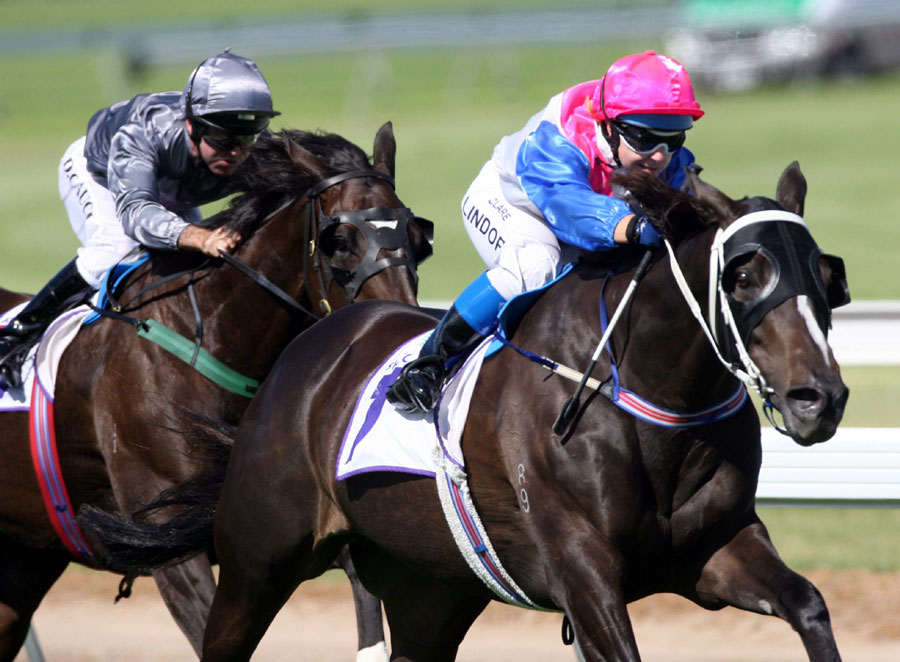 Exalted Time got a good start, and I sent him forward. If you've drawn out wide it's crucial to "get across" to get in with cover; if you've drawn in, you have to defend your spot, and not get pushed "too far back". I was in 2nd position as we went past the grandstand for the first time, but the leader was going slow. I could hear some scrimmaging going on behind me, as jockeys were still  jostling for positions, and knowing that if we went too slowly, someone would be forced to "whip around us" and put too much pace into the race for me – so at the winning post the first time, I gave Time more reign…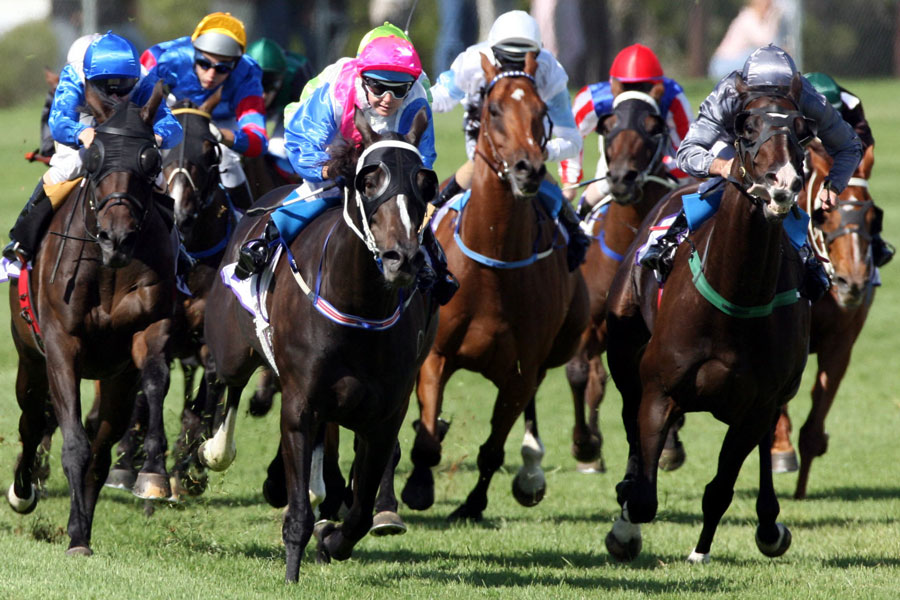 Time pricked his ears as we went to the lead, he was keen on the bridal, but his action felt relaxed and breathing was even. I kept the strong pace up along the back stretch, using his strength, but I steadied him down as we approached the 1600m mark – half way – he relaxed beautifully, and I could give him a breather around the "top turn" as no one would want to make a move out wide on a bend, and if they did they would be out exposed "covering ground".  With 1000m to go I changed position, gathering up Time to prepare for the onslaught I could hear the hooves of the challengers starting to come…
We stayed off the fence, as the better going was out wider in the straight. From the 600m I took the final turn at an angle, spearing out even wider, knowing the rest of the field would all follow and have to go even wider. As we straightened up for home, I thought to myself "we are getting away with this" and asked Exalted Time for his best effort, and head down, full stretch, away we went…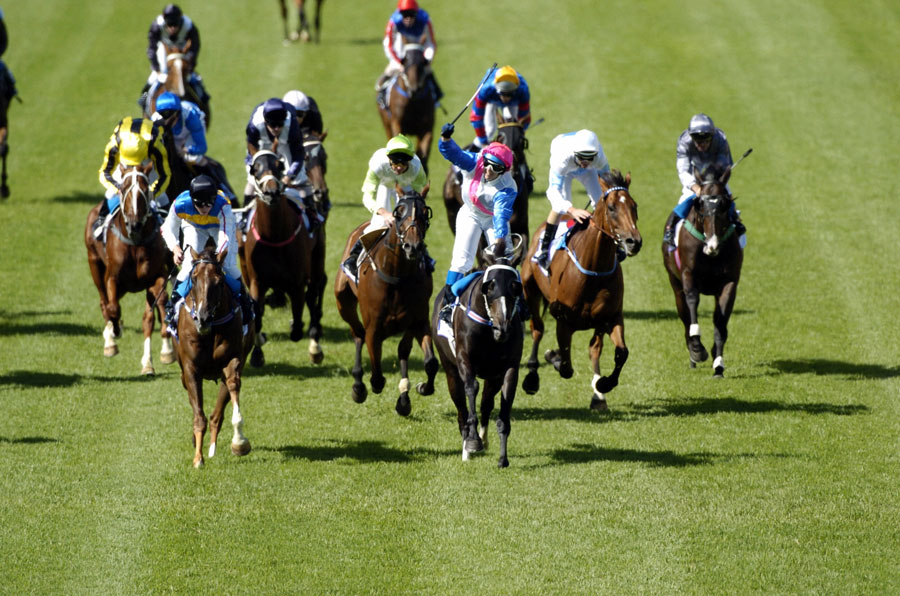 I could hear the favourite "Tubular Bells" coming hot on our tail with 200m to go, but I stayed in rhythm and didn't dare look behind me. The roar of the crowd helped lift us, and as we sailed clear past the winning post, I let out a whoop of jubilation- we had done it!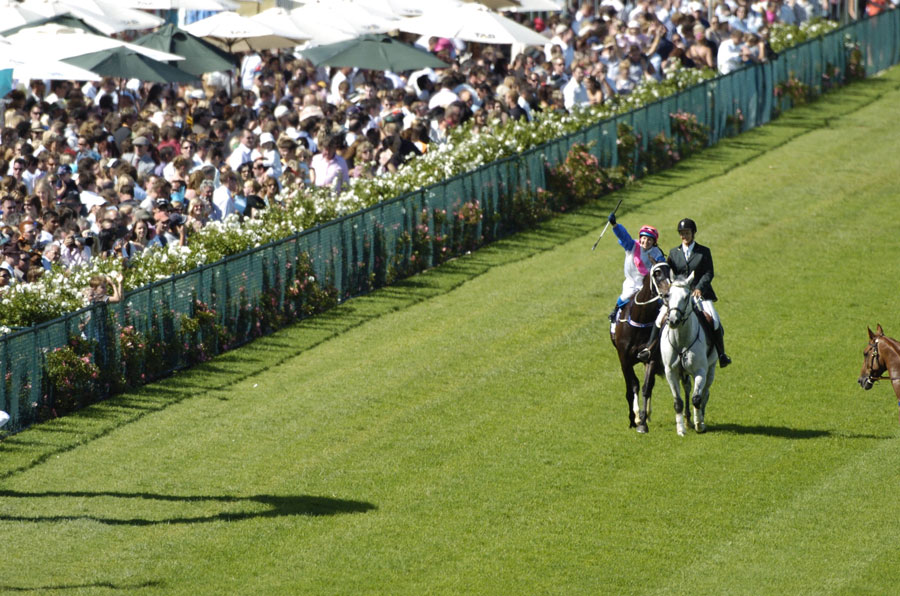 Easing down and pulling up, I took that little bit of space just for myself and Time. I stroked his neck and shook my head in a daze. So, this is what it feels like to be a Group 1 winner!
Other jockeys gave me a shout as we cantered back to scale, the crowd cheered, and as we came back into the winner's enclosure, Exalted Time seemed to arch his neck and smile for the cameras. Jim Smith, Ken and Helen Smith and my family were there, and we all celebrated, exhausted but exhilarated.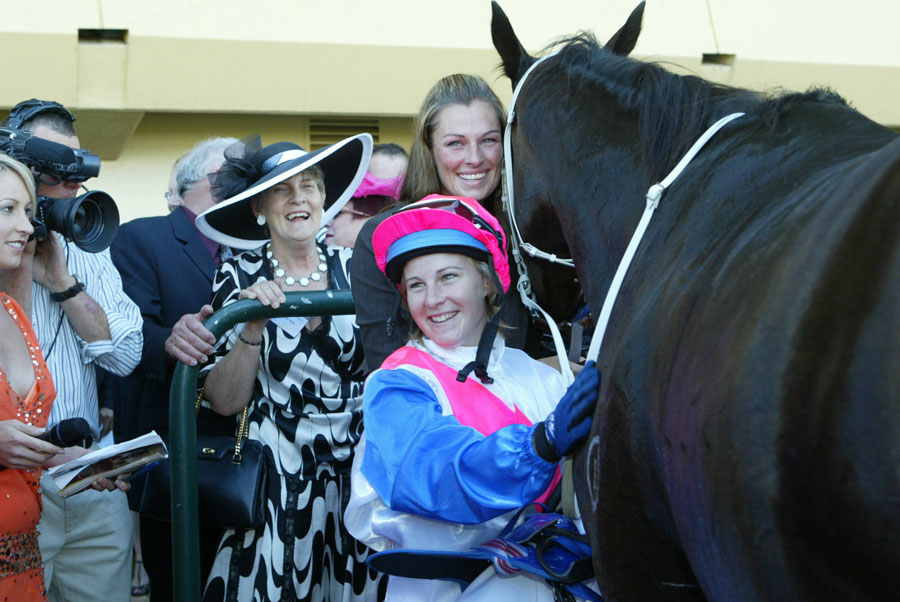 There is nothing quite like the ride a horse can take you on.