As everyone who hasn't been under a rock would know, I announced in March that this current Racing Season would be my last Adelaide Cup and SA Festival of Racing. I must say a big thank you to the Advertiser, Racing.com, TABRadio and all the other media platforms which have enabled me to reach out to the racing world and to the wider community as well.
I'd like to take this opportunity to once again thank everyone who has supported me throughout my career, including the punters who turn up at racetracks and UBET's around the country; the country trainers who gave me my first breaks when I couldn't sit on the proverbial "bay to city tram"; and the many owners from all different walks of life who I have had the honour to meet and to ride for, and who've believed in my ability to bring their horse home upfront.
I've been privileged to make a successful career doing something I love; something that brings me, and so many others great joy – and there's a magic in that.
I've ridden some very special horses, been part of transformative changes for the better to the Racing Industry nationally and worked with some wonderful colleagues, trainers, officials and administrators; many of whom I consider dear friends, and some of whom we've sadly lost along the way.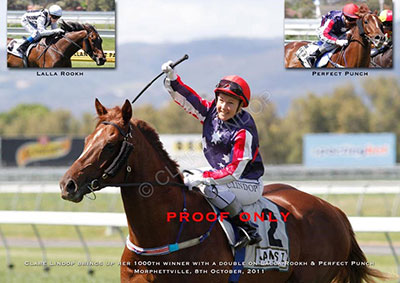 I have been so lucky to ride throughout our UBET Adelaide Festival of Racing Carnival and compete for the last time at Group level, riding against some of Australia's best jockeys and trainers.
To win 3 races over the past 4 weeks at Morphettville for the Macdonald-Gluyas Racing Stable has been incredibly rewarding; "Mail It In" for long time owners in the Steve Chambers Syndicate; and then the icing on the cake; winning two Group 3 races – the Breeders Stakes and the Sires Produce – aboard the exciting 2-year-old "Tequila Time". I thank all of the owners for having me as part of the "Tequila Time" story and I look forward to following his 3-year-old career and beyond with great interest.
Last Saturday saw the conclusion of our Carnival where I rode in my last Group 1 event, the Group 1 Goodwood Handicap. After the big race, I was called into the Mounting Yard for a presentation – to which I was cheekily anticipating a bouquet of flowers and a bottle of red, adding to the generous collection I have been receiving from such clubs as Clare, Oakbank and Pt. Lincoln (thank you!) However the announcement that this September I will be inducted into the SA Racing Hall of Fame was a huge surprise. I was extremely humbled by the words from Bruce MacAvaney and the sentiment of my fellow colleagues left me close to tears. Racing has provided me with so much and I'm very grateful and proud to even be considered to be included into the SA Racing Hall of Fame alongside such great legends of the turf.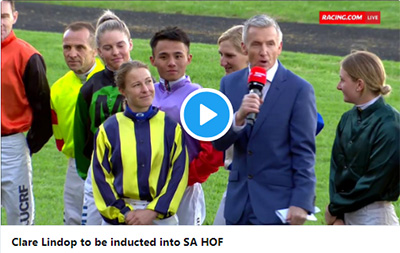 I am feeling a bit lost for words to describe how I feel now the dust is settling on the 2018 UBET Adelaide Festival of Racing. To all of the people who have sent me messages and cards wishing me good luck for the future, thank you very much for your well wishes. I am really proud when I reflect on the achievements throughout my career, and there are so many highlights and special moments it's hard to pick one.
My working relationship with Leon Macdonald over the past 15 years has been amazing, not only do I feel that we have mutual respect for each other as Trainer and Jockey, but Leon, his wife Pam, Andrew and Sue, Christine and Terry and their families have embraced me into the fold as one of their family. This friendship and support network in what can be such a hard and cut-throat industry has been invaluable.
I don't come from a racing family. In fact none of my family ride horses – we joke that I am the black sheep of the family! Both my parents were teachers, and my 2 older sisters both graduated with University degrees. When I left school at 15 to become an apprentice jockey they were a bit worried about my future, but I always felt that I had their support. Mum and Dad have always been there for me, celebrating every winner and there to lend support, or to pick me up when things weren't going so well.
I have been blessed by the people who have come into my life over the years, and who have helped me pursue my dreams and realise my goals in racing.
From the grand horseman Mr Johnny Lee, who taught me to ride, jockeys like Christine Puls, Maree Payne, Billy Nolan and the legendary "Nifty" Nevil Wilson. The astute horsemen and women such as (the late) Jack Barling, Byron Cozamanis, Ken Sweeney, Terry and Karina O'Sullivan, (the late) David Balfour, Karen Byrnes, Jimmy Smith, Peter Moody, Leon Macdonald, Harry Perks, Ken and Helen Smith and many other significant owners who I am deeply grateful to.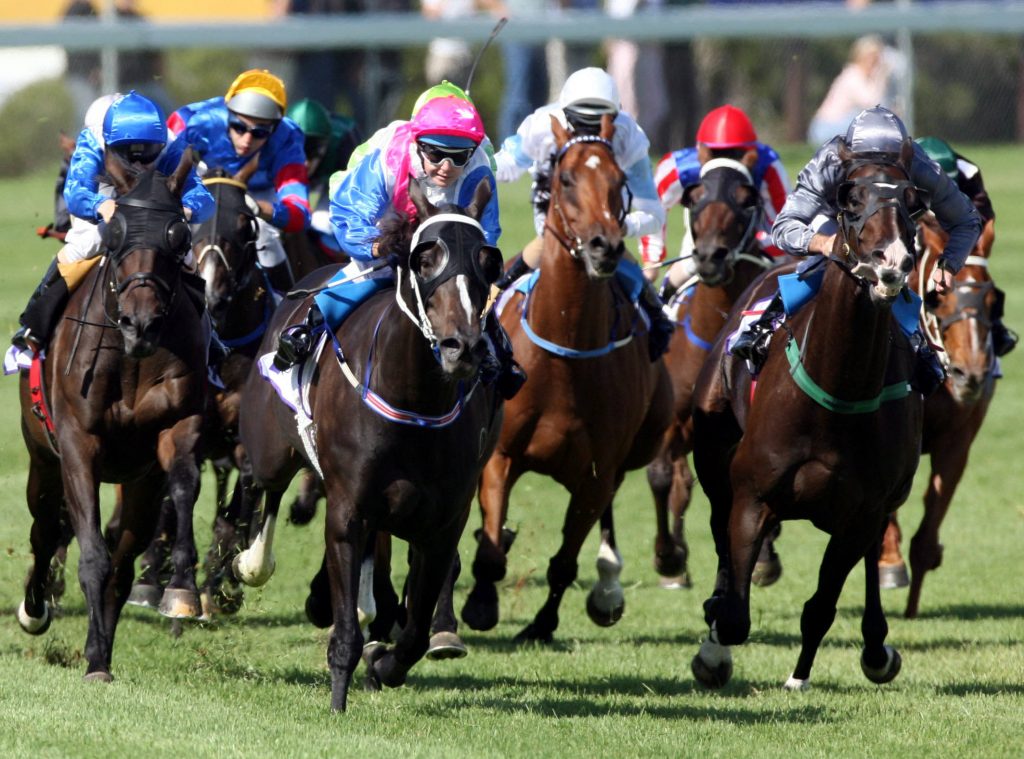 I would have to say that Leon Macdonald has been my biggest Mentor and I have enjoyed being part of his stable team for so long. "The Boss" took me into his stable as a 22 year-old- Jockey fresh out of my Apprenticeship; when I was still scrapping around trying to ride a winner in the bush. He put the polish on my career as a senior rider, and there is no doubt without his support I would never have reached the racing heights that I have.
My first ride in the Melbourne Cup in 2003, aboard "Debben" for Leon Macdonald was literally a dream come true, and probably changed the course of my career. The media exposure that becoming the first Australian female to ride in our greatest race brought me set me onto a path full of opportunities which I may never have otherwise gained. That season, after riding in the Cup, I had my the biggest year in the saddle, riding 111 winners for the season, a new record for a female jockeys and one which was only just broken by Jamie Kah last year, and looks to be smashed again and set even higher this year by a flying Linda Meech. The fact that both of these jockeys don't really want this to be a "female record" and are looking to break the record full stop; also makes me proud of the long way that female jockeys have come.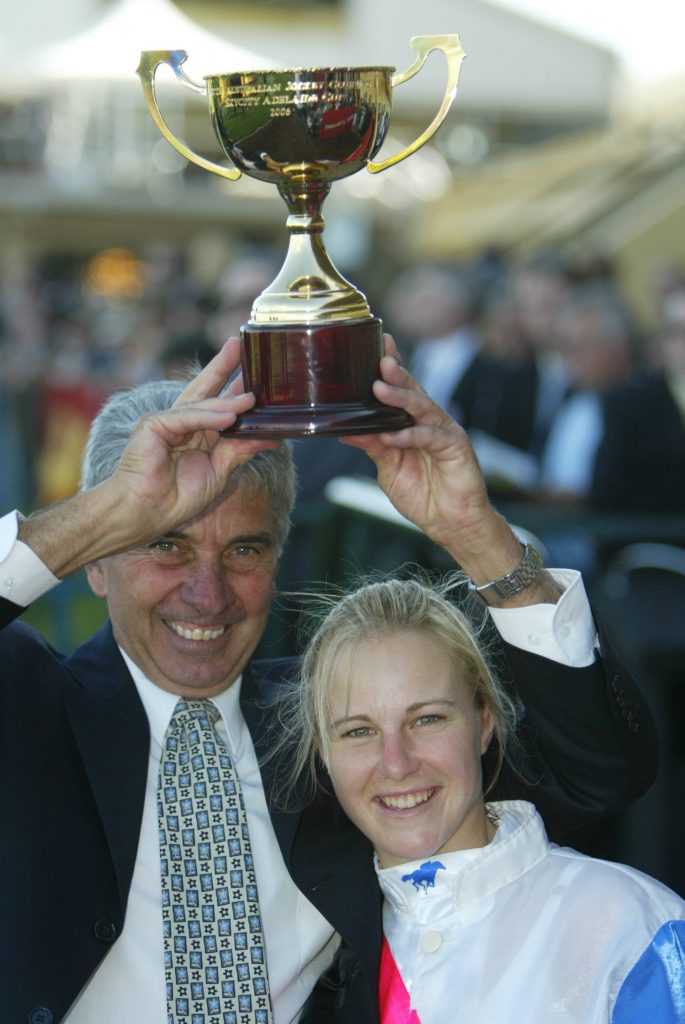 I honestly get a real sense of pride in the horse when I ride a winner; I know how much work there is involved and all the people behind that victory. I would have to say that whether it's winning a maiden at country race meeting somewhere, or at Morphettville; to see a group of happy owners celebrating and the shared thrill of being involved with the animal is what racing is all about.
Group and Black Type Level races is the ultimate in our sport and to be able to compete and have ridden in Group races all throughout Australia has been a fantastic experience. Winning my first Group 1 on "Exalted Time" in the Adelaide Cup in 2006 for Jimmy Smith and the owners Ken and Helen Smith is still one of my fondest memories.
Such an exciting race, with "Exalted Time" running his heart out for me, leading all of the way- a huge thrill to be able to win my adopted home-town Cup.
Of all of my wins, the Group 1 VRC Derby in 2008 aboard "Rebel Raider" for Leon Macdonald would be the stand out and the most significant victory. The Flemington Carnival is globally recognised as one of the best Racing Carnivals in the world, and to be part of this rich racing history is a privilege. The ownership group in "Rebel Raider" includes some of the most influential people in my career. Mr Harry Perks has been a strong supporter of mine over the years, giving me opportunities from very early on. "Rebel Raider" was a magnificent horse and he also gave me my 3rd Group 1 by winning the SA Derby easily in 2009. Probably my biggest disappointment in racing is that "Rebel Raider" never actually got to show his best on the racetrack due to injury. I really do wonder what would of (or could of!) happened if he had of made it to the Melbourne Cup.
To retire from racing and to be able to say that I have ridden in the Melbourne Cup, not just once, but 3 times is actually really incredible. There is many a better jockey than me who may not have ever had the opportunity to ride in the race. I do consider myself very lucky that I have always been a "lightweight jockey" and therefore able to take up chances in big races due to being able to ride the weight.
Winning my first Metropolitan Premiership in 2005 was significant to me personally, as I felt that I had succeeded in proving -not just to others, but also to myself -that I could do it! I could compete consistently at the top of the jockey's premiership and hold my own against my colleagues. Winning this premiership went right down to the last day of the season, with Joe Bowditch and I going head to head, both of us riding winners and I just survived coming out the victor after a thrilling day.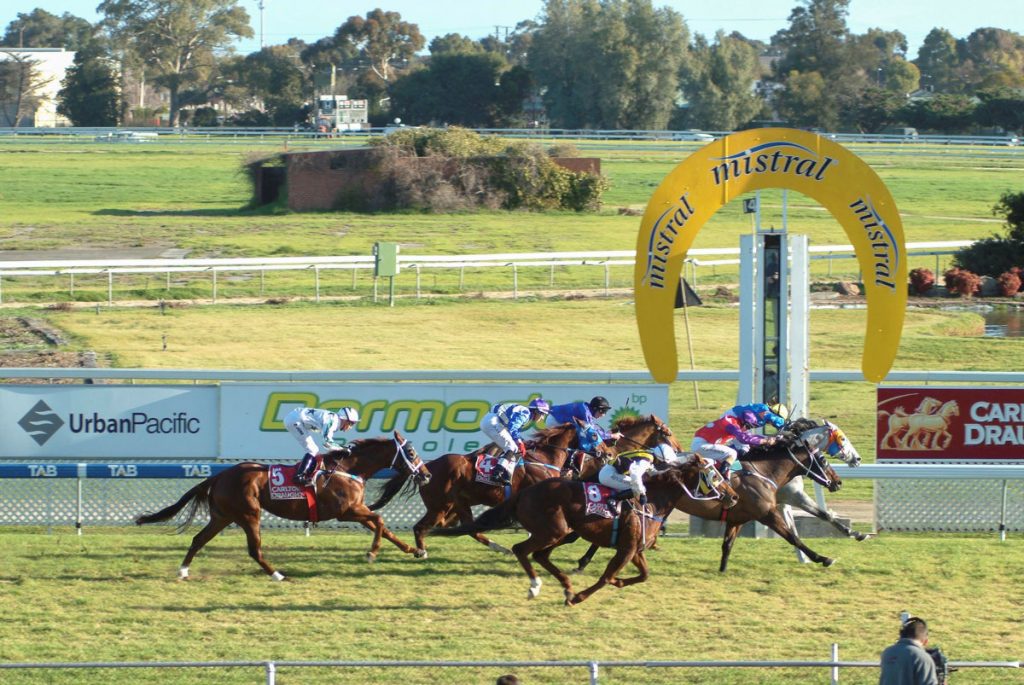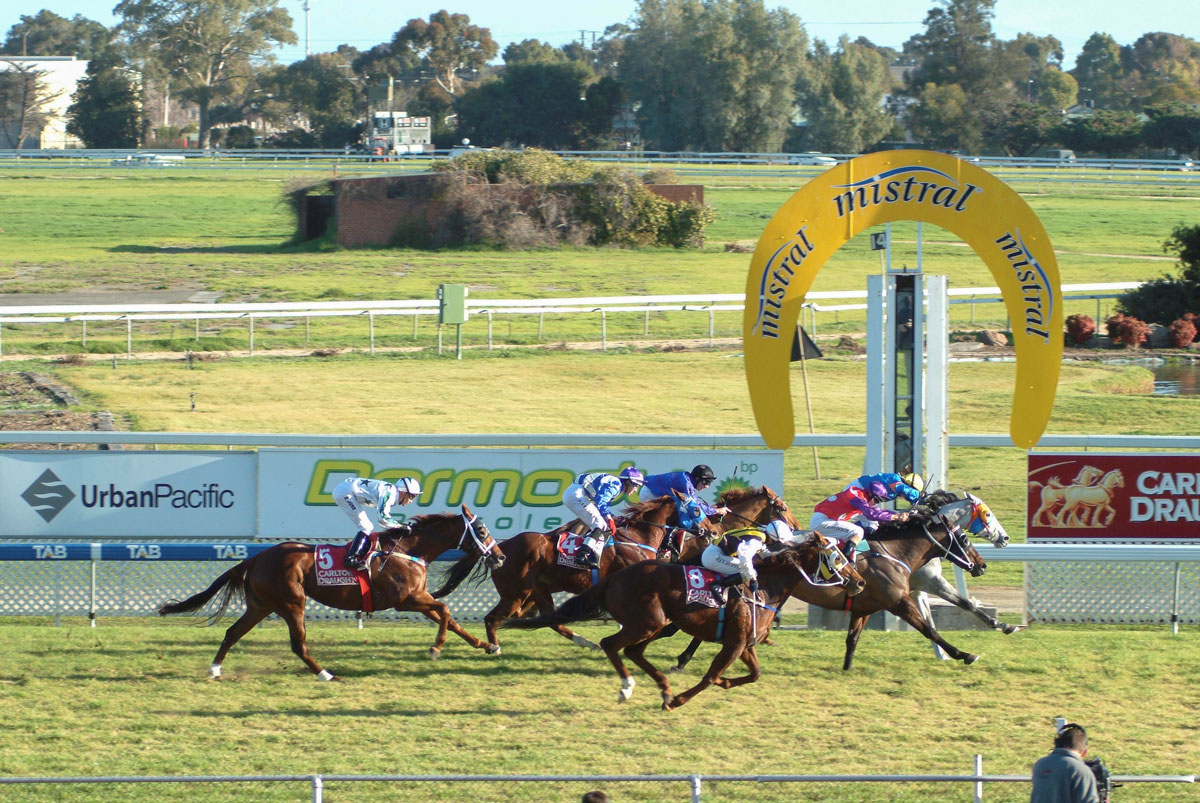 I won my second SA Premiership in 2009 and my third in 2014-2015. The most significant Premiership win for me would have to be in 2015, as I was returning to riding after a long lay-off from a nasty fall back on Adelaide Cup Day where I sustained some of the worst injuries of my career. I combined with a new Racing Manager (and now husband) in Damien Wilton, and with Damien's help I rode 55 Metropolitan winners, which is a personal best for me. When you think that there is really only one Metro race meeting in Adelaide per week, this is quite a significant achievement.
Racing of course is not without its challenges. Day in and day out of early mornings and constantly working to keep the body fit and sound. I have had my share of injuries and setbacks, when a ride didn't work out, being overlooked and missing out on a ride in a big race on occasions too. Overall I have been incredibly lucky, and to be able to hang up the saddle on my own terms is something I am grateful for.
I know a lot of my followers have watched me right from the start and celebrated the highs and endured the lows along with me- none more so than my own family. In particular and especially over the past few years, my now husband Damien Wilton. The decision to retire has not been made lightly and I want to thank especially Damien for being there for me.
What is next for Clare Lindop? I am passionate about animals and I love racing and all sports. My husband's business revolves around racing, so I will still be involved in some way.
I am looking forward to having more time to put into my own family, and to finally finish my garden and renovate the bathroom (!)
To pursue other passions such as my work with the Charites I am currently aligned with; The Little Heroes Foundation and the SA Variety Bash. Damien and I are also planning to do a Charity Trek raising money for Avner the Pancreatic Cancer Foundation.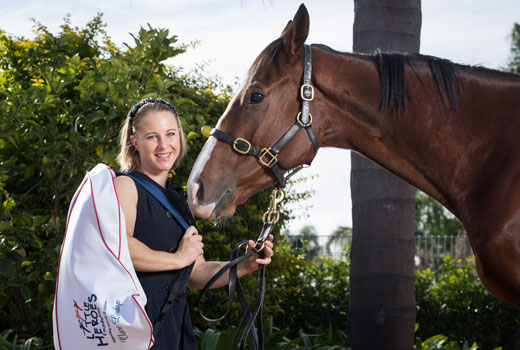 So I am not 100 % sure what the future may bring but please feel free to follow me on my website clarelindop.com as I plan the next chapter in the Clare Lindop story.
I will continue riding for the next few weeks, and I'm hoping that now the speeches are done, and all has been said; I can quietly bow out and enjoy my last days. Riding off into the proverbial sunset without all of the hype and fanfare.
Ironically it probably makes more sense to me to be finishing on normal race day. The sort of day where everyone in racing is wishing that "if only they had just paid a bit more attention at school- they might not be working hard outdoors in the cold on a Sunday and freezing their backsides off!"
I'll be out on the track racing amongst the pack, doing my utmost to keep up somewhere in contention, and coping a face full of mud and stones to boot, and then saying;
"Well lads, I'm out. Good luck to you all!"